Boram Anywhere offers one-on-one, virtual Parenthood Prep sessions and Postnatal Coaching.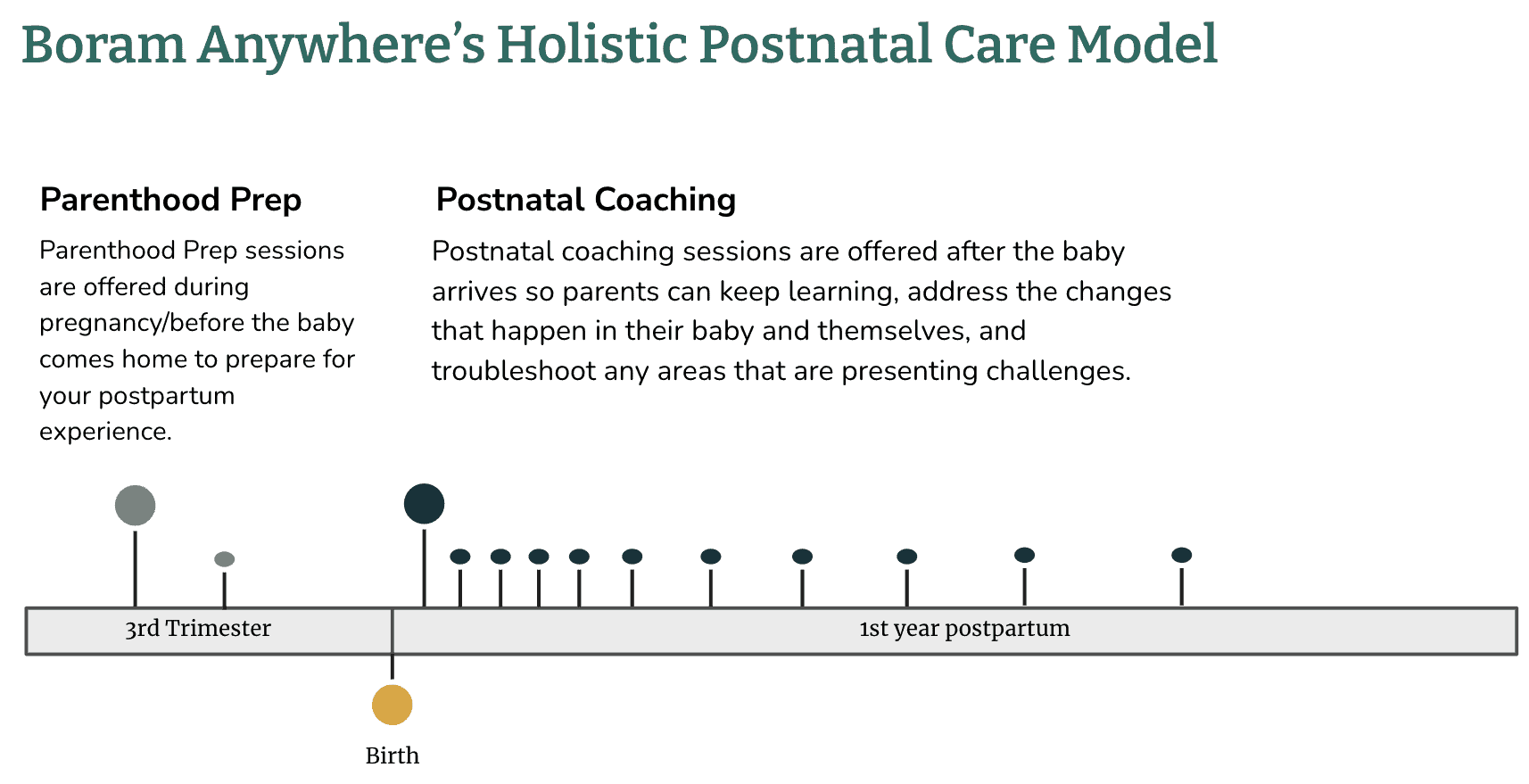 In all sessions, trained and experienced postnatal coaches are there to provide information, emotional support, practical tips, and resources tailored to your individual needs.  Your coach is like a non-judgemental friend that really knows about the first year postpartum!  Lean on them as a listening ear, someone to be focused on your needs when everyone else is focused on the baby,  and a source of reliable, evidence-based information.  Our coaches aim to leave you feeling supported and confident, whether that means answering your questions, troubleshooting a specific issue, or going through some general check-ins and frequently addressed topics for the stage of parenthood you are in.
What is the most commonly purchased package?
Packages of 4, 8, and 12 sessions are available, and our 8 session package is our most frequently purchased package.  Packages can be purchased before the baby arrives or anytime during the first year postpartum, so if you use all of your sessions, there is always the option of purchasing more! 
When should I join Boram Anywhere?
If you are a soon-to-be parent, or a parent of a baby under 1 year of age, we recommend joining now!  Boram Anywhere has a limited number of spaces, so to ensure your spot, we encourage signing up right away. 
Where will I meet my coach?
Boram Anywhere sessions are 45 minute Zoom sessions. When you book a session, you will receive an email confirmation with a link to access the call at the scheduled time. You are welcome to turn on or off the video feature to your comfort!
When should I schedule my first session?
If you are a soon-to-be parent, we encourage booking your first session in your third trimester or within 3 months of when you expect to grow your family.  If your baby is here, put your first session on the calendar right away!
All of our postnatal coaches are postpartum doulas and Certified Lactation Counselors.  Each coach brings their unique experience and expertise, and are overseen by an IBCLC and our team lead, who is certified in perinatal mental health.  Our team members undergo ongoing training to increase knowledge base and hone interpersonal skills.  Our coaches have been described as empathetic, judgment-free, encouraging, insightful, and supportive.
What is it like to work with a postnatal coach?
Previous clients have described working with a postnatal coach as helpful, grounding, and comfortable, and said that they considered their coach a friend, an advisor, and a mentor. Your coach is someone who is rooting for you, answering your questions, and providing you with many options, without judgment, so you can make the choices BEST for you! 
Will I work with the same coach every session?
We encourage you to choose one coach to regularly work with so that you can build a relationship with them and they can give personalized guidance.  Of course, we are a team, and are happy to set up a session with another coach if ever it's helpful!
How is meeting with a postnatal coach different from meeting with a therapist?
While both provide emotional support, postnatal coaches offer parenting support, not mood/anxiety disorder treatment.  And parenting support may work to prevent mood and anxiety disorders!  1 in 5 moms experience a mood or anxiety disorder during pregnancy or postpartum, and the number one protective factor is perceived support.  Our coaches are here to walk beside you through the transition to parenthood and work with you to identify your needs and have them met so that you can embrace parenthood with confidence and grace.  Your postnatal coach provides information and expertise on infant development and the transition to parenthood, helps troubleshoot parenting logistics/scheduling, and gets you connected to that village they're always talking about. And, our coaches can share mental health therapist information when it's helpful! 
What is a Boram Anywhere session like?
How are sessions structured?
Sessions are tailored to your individual needs and follow a loose and moldable format that is guided by your questions, topics of interest, and areas of concern.  Sessions feel conversational and connected, while imparting information and emotional support that is fitting for the family.
Should I choose a topic for each session?
Your coach will work with you to outline each session to fit your individual needs.  Sometimes, this means entering the session with an intention and goal(s).  Other times, this means starting your session by sharing your experiences with your coach and establishing what is most important to address together.  Every family's needs are different, and needs are ever-changing, so no two sessions are alike!
What topics can be covered in a session?
All parenting/parenthood topics are welcome, and nothing is too small or big.  Even if you feel like you have a silly question, we've probably heard it many times before!  Our coaches are qualified to discuss a wide range of topics, and if there is an area where we don't have expertise, we will work to connect you with a professional that does. Some of the most frequently covered topics include: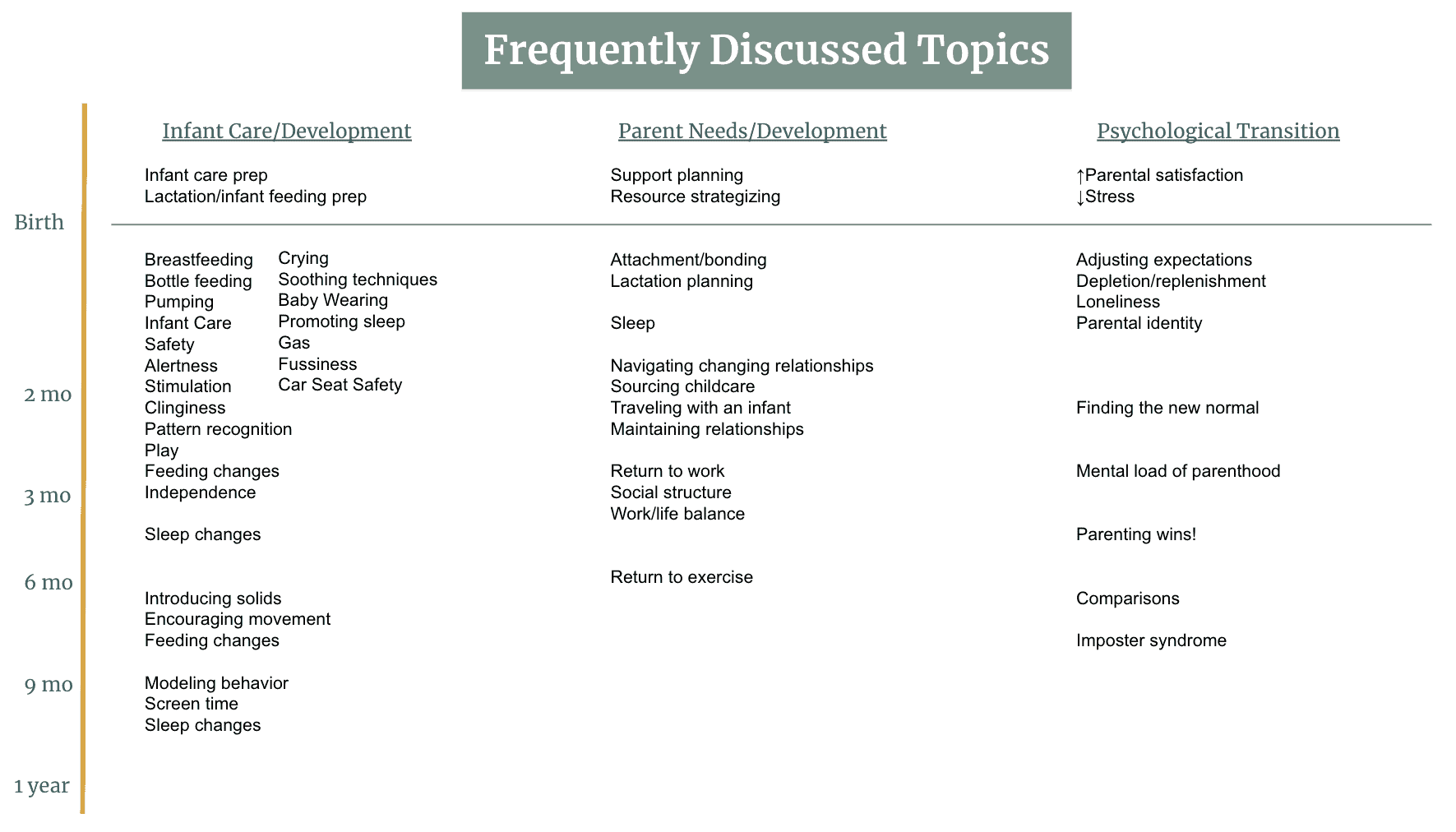 Do you offer breastfeeding support?
Yes!  Breastfeeding is a common topic of interest, and many join Boram Anywhere for access to ongoing lactation support.  All of our coaches are Certified Lactation Counselors, and we have an International Board Certified Lactation Consultant on our team who oversees lactation support.  Whether you dedicate sessions to specifically address breastfeeding concerns/changes or breastfeeding considerations are interwoven in other topics, rest assured your coach is here to support you!
Partners are always welcome to join the session and learn alongside mom! Some parents use sessions to discuss topics/priorities together and make a plan for the future that feels like a good fit for everyone.  
Do you offer any group events to get to know other parents?
Currently, we offer one-on-one sessions.  If you're looking for community, get to know other families and their experiences in our private Facebook group for Boram Anywhere members!  
How often should I schedule sessions?
We allow for flexible scheduling, so when you use your sessions is entirely up to you!  As parents find their stride, they tend to decrease the frequency of their sessions. Some parents even have daily sessions in the first week or two of parenthood to ensure ongoing support!  
On average, we tend to see parents using 1-2 sessions before baby comes home, weekly sessions through the first 12 weeks, and use on an as wanted/needed basis beyond the first 12 weeks.  
How do I schedule sessions?
After purchasing a package, you will receive a confirmation with a link to schedule.  Simply choose the available time that works best for you!
How quickly can I book a session?
After purchasing, parents can book sessions through our online booking system as soon as 12 hours prior.  Contact your coach if something urgent comes up, and we can see if it's possible to fit in a session even sooner! 
What is your cancellation policy?
All sessions can be rescheduled up to 12 hours prior to the scheduled time.  Unfortunately, cancellations within 12 hours of the session start time must be billed in full.
What if my baby is crying/needs a feed/etc. during a session?
Babies, and their needs, are always welcome in Boram Anywhere sessions. Your coach is understanding of infant needs and can get a full picture to best tailor support to your needs by seeing it! 
All sessions expire 1 year postpartum. Your coach can connect you with resources to best support you into toddlerhood!